What a beautiful day! Even though I have been struggling these past 2 days with some major Feed-Me cravings, I am happy to report yet another on-fast day. Twenty four days strong.
This morning I juiced up 1/2 a mango, 1/3 a pineapple and 1 red delicious apple for the most wonderfully delicious breakfast juice. If I had to only juice these kinds of liquid nirvana this fast would be the best. Unfortunately, that is not the case. Too many sweet juices upset your body balance, not to mention your insulin levels. So one a day, not more, of pure fruit goodness.
For lunch, I had the water from one young coconut. A young coconut looks like this in the store: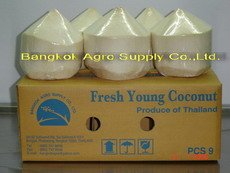 they are usually in the husk, a cone shaped top and a flat bottom. You have to use a knife and cut the huck off the top 1/3 of the coconut, shaving it off down to the outside of the shell, then stick a heavy knife in and ease the top off so it ends up like this:
Then you stick a straw in and enjoy. If you were eating solids, you can eat the flesh, it is softer and thinner than an old coconut, and it is easy to scoop with fingers or spoon. It was really good, cool and refreshing. I want another!